Xerox 700 Digital Press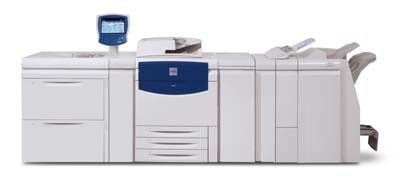 The Xerox 700 print delivers "Offset Quality" printing for short run and Variable Data print jobs. The 700 prints up to 12 point cover and can also output on transparency stock, label stock and other specialty papers.
Xerox 700 Digital Color press Specifications
Resolution 2400 x 2400 dpi
Toners Xerox EA low melt toner
Paper Weights
Coated: 28 lb. bond - 110 lb. cover
Uncoated: 18 lb. bond - 110 lb. cover
Paper Sizes
Maximum sheet: 13" x 19.2"
Maximum print image area: 12.72" x 18.9"
Minimum sheet: 4" x 5.6"
Finisher
Multi-position hole punching and Stapling
Stapling (coated and uncoated) up to 100 sheets
Booklet maker for bi-fold or saddle-stitch booklets (coated and uncoated) up to 25 sheets
Print Server Creo CX700 color print server